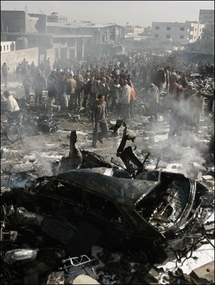 .
"At least 195 people perished in these operations and more than 100 others were wounded throughout the Gaza Strip," Hamas health minister Bassem Naim told AFP.
The bombardments killed at least 70 people in Gaza City itself, most of them believed to have been inside Hamas police headquarters, medics said.
The mid-morning air raids followed days of rocket and mortar attacks on Israel by militants inside Gaza, which the Jewish state had warned would be met with harsh reprisals.
"This is only just the beginning of an operation launched after a security cabinet decision. It could take time. We have not fixed a timeline and we will act according to the situation on the ground," Benayahu said.

An AFP journalist reported dozens of simultaneous air attacks across the besieged and densely populated territory.
The Israeli military said the air strikes were launched in a bid to stop "terrorist attacks" from the Hamas-run enclave.
"Our aviation intervened massively on Saturday against Hamas infrastructure in the Gaza Strip to stop the terrorist attacks of the past several weeks against Israeli civilian installations," an army spokesman told AFP earlier.
"We had warned the civilian population in the Gaza Strip of our attacks and Hamas, which hides within this population, is solely responsible for this situation," he said.
"Our operations will continue and will be expanded if necessary," he said.
AFPSmoke billows from the Gaza Strip following Israeli air strikes on the southern town of Rafah
Television pictures showed palls of smoke hanging over the city and panic in the streets.
Israeli leaders had threatened to carry out a major operation into the Islamist-controlled territory in a bid to halt rocket and mortar attacks by militant groups after a six-month truce ended on December 19.
Israeli media on Friday had reported an imminent operation in the Gaza Strip, but said it would probably be limited in scope and not a full-scale invasion.
Palestinian president Mahmud Abbas condemned Saturday's Israeli raids, his spokesman in the West Bank Palestinian political capital of Ramallah said.

"The Palestinian president condemns the Israeli attacks and calls on the international community to intervene to end them," Nabil Abu Rudeina told AFP.
Violence in and around the Gaza Strip has flared since the ceasefire ended, and escalated dramatically on Wednesday when militants fired more than 80 rockets and mortar rounds in response to air strikes over the coastal strip.
On Friday, 13 rockets and mortar rounds hit southern Israel, causing no casualties but damaging a house that was unoccupied at the time.
Two Palestinian girls were killed when what was thought to be a stray rocket or mortar round hit their house in the north of the territory.
Israel had responded to earlier rocket attacks by tightening the blockade it imposed after Hamas violently seized power in Gaza in June 2007.
However dozens of truckloads of supplies were delivered to Gaza on Friday after Israel decided to temporarily allow in humanitarian aid.
At the same time, the Israeli government issued dire warnings to Gaza militants, saying it would strike back hard if attacks continue.
AFPThe Israeli military has warned that the massive bombardment of Gaza is "only just the beginning" of its offensive

"I will not hesitate to use Israel's strength to strike at Hamas and Islamic Jihad," Prime Minister Ehud Olmert said in an interview with Al-Arabiya television on Thursday, adding ominously that "tens of thousands of children and innocents" would be at risk "as a result of Hamas's actions."
Hamas is sworn to destruction of the Jewish state and has warned that it would retaliate by resuming suicide bombings inside Israel. The last such attack claimed by Hamas was in January 2005.