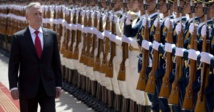 Mattis, who resigned on December 20 after US President Donald Trump announced that US forces would be withdrawn from Syria, released the letter on Monday, his final day as head of the US military.
The 68-year-old urged the Defence Department's more than 1 million active duty troops along with reservists and civilian employees to stay focused on their missions.
"I am confident that each of you remains undistracted from our sworn mission to support and defend the Constitution while protecting our way of life," Mattis said. "Our Department is proven to be at its best when the times are most difficult."
He encouraged members of the military to "keep the faith in our country and hold fast, alongside our allies, aligned against our foes."
Mattis said it had been a "high honor" to serve with the members of the military.
"May God hold you safe in the air, on land, and at sea," he wrote.
Trump announced on December 23 that Deputy Secretary of Defence Patrick Shanahan would become acting secretary of defence starting on Tuesday, New Year's Day.
Mattis, who served nearly two years as head of the Pentagon, had originally planned to step down in February, but Trump opted to replace him sooner after the retired general wrote a scathing resignation letter about disagreements with the president over the withdrawal of US forces from Syria.