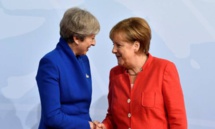 "It's within our grasp to leave with a deal on March 29 and that's where all of my energies are going to be focused," May told reporters after talks with EU leaders on the sidelines of an EU summit with the Arab League in the Egyptian resort of Sharm el-Sheikh.
"There is still more work to do, and my team will be in Brussels tomorrow working on the legally binding assurances that the UK parliament needs in relation to the backstop," she said, referring to a controversial "backstop" protocol designed to guarantee an open Irish border after Brexit.
May said she sensed "a real determination [from EU leaders] to find a way through which allows the UK to leave the EU in a smooth and orderly way with a deal."