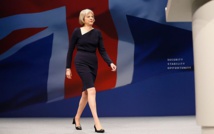 "This is an ambitious, credible vision that is also a vision for Britain once we've left the European Union," May told the BBC's Andrew Marr show when asked about reaction to her speech on Friday.
May was praised by Conservative peers for stressing that Britain will inevitably have reduced access to EU markets once it leaves the EU single market and customs union in March 2019.
But many critics focussed on her alleged failure to provide a way forward on the key sticking point of the post-Brexit Irish border.
"I was being straight with people," May said in the interview broadcast on Sunday.
"But there's also one of the messages behind the speech which I think is to say to people... that the time for arguing, either side of the [Brexit] referendum, is gone."
Speaking on the same programme, Irish Foreign Minister Simon Coveney welcomed the "realism" in May's speech but said "she hasn't really gone into any more detail ... in terms of how she's going to maintain a largely invisible border."
Irish Prime Minister Leo Varadkar earlier urged May to provide "more detailed and realistic proposals" for the border between Northern Ireland, which will leave the EU with the rest of the United Kingdom, and Ireland, which will remain an EU member state.