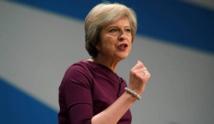 Attorney General Geoffrey Cox is scheduled to brief parliament, but many eurosceptic and pro-EU lawmakers from opposition parties and May's Conservatives have demanded the publication of the full written advice.
The Sunday Times reported that a leaked letter from Cox to May's cabinet warned that Britain could be locked into an indefinite backstop to guarantee an open Irish border after Brexit.
May has insisted that the backstop, which could place Northern Ireland under slightly different arrangements from the rest of the United Kingdom, would only be a temporary last-resort arrangement in case the two sides fail to agree a deal for post-Brexit trade.
The row over the legal advice precedes five days of parliamentary debate from Tuesday and a vote on May's deal, scheduled for December 11.
"Levelling with the public and parliament on Brexit is key to restoring trust in politics, healing divisions and unifying the country behind any preferred outcome, which is why the attorney general's legal advice should be published in full before next week's historic vote," Conservative lawmaker Sam Gyimah tweeted on Monday.
Gyimah, who backed the campaign for Britain to remain in the EU in the 2016 Brexit referendum, resigned from a junior ministerial post over the weekend to oppose May's deal.
In an apparent effort to find a compromise over the legal advice, the government said it planned to publish a "position statement" ahead of Cox's appearance in parliament.
Speaking on broadcaster ITV's This Morning programme on Monday, May declined to answer a question on what could happen if members of parliament (MPs) vote against her deal next week.
"I'm very clear that I've got a duty as prime minister to deliver on what the people voted for [in 2016]," May told the broadcaster. "I'm focussing on getting that vote through."
"It's a key moment of decision for MPs about do we want to ensure that we leave the European Union," she said, dismissing growing calls for another referendum on Brexit.
"People are talking about a second vote when we haven't even delivered on the first vote," May said.
The Financial Times said it expected "a week of turmoil" as May appears increasingly unlikely to push the deal through parliament, while other media said the legal row could plunge Britain into a constitutional crisis.
"If they don't produce the advice... this will be a collision course between the government and parliament," Labour's Keir Starmer, the shadow Brexit secretary, told Sky News.
The Sunday Times quoted Cox as saying in his letter that the backstop protocol "would endure indefinitely" unless it is superseded by a new agreement.
Former Brexit secretary Dominic Raab, who resigned in October, told the newspaper the legal advice showed that "the EU has a clear veto [over ending the backstop], even if the future negotiations stretch on for many years."