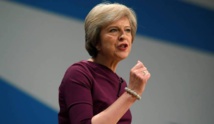 Lawmakers in the Commons, parliament's elected main house, voted by 331 to 287 in favour of a motion to allow the house to hold non-binding "indicative" votes later Wednesday.
The government opposed the motion, saying the holding of indicative votes would set a "worrying precedent."
Andrea Leadsom, May's leader in the Commons, urged lawmakers to bear in mind that any Brexit deal "needs to be deliverable, needs to be negotiable [with the EU]."