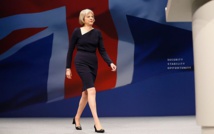 May had bilateral meetings with several EU leaders, including German Chancellor Angela Merkel, Danish Prime Minister Lars Lokke Rasmussen and European Council President Donald Tusk.
Leaders of the 27 EU countries remaining after Brexit want to see progress in three areas - citizen's rights, a financial settlement and the issue of the Irish border - before they can green-light moving on to trade talks.
Following her meeting with Tusk, May spoke of "a very positive atmosphere in the talks and a genuine feeling that we want to move forward together."
For his part, Tusk said that "sufficient progress in Brexit talks" was still a possibility in December, but warned that it was "still a huge challenge."
"We need to see progress from UK within 10 days on all issues, including on Ireland," he said.
May reiterated Britain's commitment to "ensure that movement of people, of trade" on the island of Ireland can carry on, and that Brexit will not "create any new barriers to trade and the movement of people across that border," between the Republic of Ireland and Northern Ireland.
However, the Irish government wants Britain to make more detailed proposals.
The Irish Minister for Foreign Affairs and Trade, Simon Coveney, said on Friday his government was looking for more than pure "aspiration," and instead for "more clarity and more credibility."
Coveney said that unless Britain commits to a road-map that lays out how to avoid "regulatory divergence in the two jurisdictions on the island of Ireland," his government was prepared to block trade talks.
The EU's chief Brexit negotiator Michel Barnier echoed Irish concerns after a meeting with Coveney, saying that Irish issues were EU issues.
May is expected to make commitments at a meeting with European Commission President Jean-Claude Juncker on December 4 in Brussels, which she hopes will unlock the stalemate.
For his part, Juncker said he was confident that progress would be made in the EU's divorce talks with Britain.
"There is movement; I don't know in which direction, but I hope in the good direction," Juncker said.
Asked whether he was confident such progress will be made, Juncker said, "Yes."