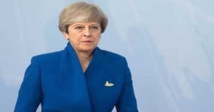 In an article for the Sunday Telegraph, May said proposals worked out with her cabinet ministers in July, known as the Chequers agreement, were a "good deal for Britain."
"The coming months will be critical in shaping the future of our country and I am clear about my mission," she wrote, conceding that there was "still a lot more negotiating to be done."
The EU's chief negotiator Michel Barnier has also admitted that much needs to be done before the March 29 deadline.
"We do not need more time," he told the Frankfurter Allgemeine Zeitung on Sunday. "What we need is political decisions."
The negotiations must be concluded by the middle of November, and a special EU summit would follow, he said.
May has struggled to unite her own Conservative party around the Chequers deal.
Foreign secretary Boris Johnson and Brexit secretary David Davis quit immediately after it was agreed, arguing it amounted to only a "semi-Brexit," with Britain still unable to control its own laws and economy.
Also writing in the Telegraph in Sunday, Conservative lawmaker and "Remain" voter Nick Boles said he could no longer support it, arguing that it had left Britain facing "the humiliation of a deal dictated by Brussels," which saw May's proposals as an "opening bid."
May's article came as the Times newspaper reported that May's former campaign manager Lynton Crosby was masterminding a plot to derail her Brexit plan and install Johnson in her place.
Last week, British Brexit negotiator Dominic Raab and Barnier said they were still aiming to have a deal in place by mid-October, but admitted the biggest issues remained unsolved.