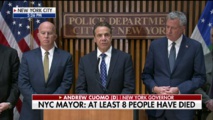 The eight dead in Tuesday's suspected terrorist violence included five Argentinians and one Belgian, city authorities said.
"Six of them came from other nations, here, because they saw New York as a special place to be," de Blasio said on Wednesday.
"And we, now and forever, will consider them New Yorkers. They shared this tragedy with us. We will remember them as New Yorkers."
The suspect, who was wounded by police but is expected to survive, has been described as an immigrant from Uzbekistan.
US Secretary of State Rex Tillerson described the attack as "an international event in terms of the victims themselves," and vowed to continue to fight terrorism around the world.
"Once again we've seen the evil face of terror in our own borders," he said, "but this is a face that knows no borders."
The New York killings were "an attack on our values," de Blasio said, insisting that the city would remain open and inviting while moving forward with events, including the New York Marathon on Sunday.
New York City is "a very strong and resilient place," he said.
"This city is a beacon to people all over the world - a place that every kind of person comes to and is respected - and that won't change."