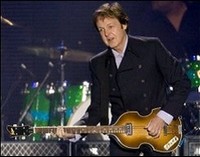 In comments posted on his website, the former Beatles star said the concert in Tel Aviv next week -- his first in the country -- could "affect the audience" and added that he believed music could lead to change.

The September 25 gig, part of a series of one-off concerts in places he has never visited before, comes after two previous unsuccessful attempts by McCartney to perform in the Jewish state.

"The world knows about the conflicts that have been in that region and I like to think that if I go to a place it becomes evident that my message is a peaceful one and I hope that the idea will spread," the 66-year-old said.

"It often does happen you know -- you'll go to a place and it can affect the audience.
"It reawakens the idea -- so that is definitely my message and when I am talking to peo

ple, that will be my message and I am sure it is a message shared by a lot of the audience too."
The Beatles drew up plans to play in Israel at the height of Beatlemania in 1965, but they were cancelled after sponsors failed to raise enough money, and lawmakers voiced concern that they might corrupt young Israeli minds.

McCartney also nearly performed in Israel in the late 1970s, when concerts with his post-Beatles band Wings were cancelled due to problems with the venues, he said.

In January Israel apologised in letters to the two surviving members of the Beatles -- McCartney and drummer Ringo Starr.

The British musician has played a number of one-off concerts this year, including the "Independence Concert" in Ukraine in June and in Quebec in July. The Tel Aviv concert will be staged in the city's Hayarkon Park.