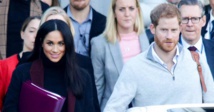 The former actress Meghan Markle started the meet-and-greet with thousands of locals in a custom-made navy dress by Australian designer Dion Lee, once again crashing the website of the designer of the day.
But after a reception at Government House she emerged in a black dress with gold buttons along one side. She also switched to flat shoes from her morning Manolo Blahnik high heels for an afternoon ride on a tram to South Melbourne Beach.
The pumps hadn't stopped her trying out the punch pass of an Australian football, but given her expectant condition she didn't try the native foods on offer at an indigenous-run cafe. Prince Harry was bolder, sampling traditional Aboriginal bush tucker.
Finally, it was off to the beach with overcast skies and rain threatening where they met waiting locals, some of them standing hip deep in the water.
They talked to surf lifesavers and congratulated schoolkids for their campaign to pick up rubbish, before flying back to Sydney where they will walk along Bondi Beach the next morning.