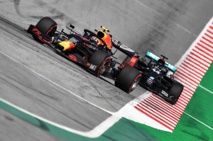 The governing FIA ruled on Friday that Racing Point should be fined 400,000 euros (470,000 dollars) and docked 15 points in the standings because their brake ducts are too similar to those of Mercedes.
Mercedes say they legally supplied drawings of their 2019 brake ducts to Racing Point last year. A change in the rules means brake ducts from other teams which were used within the regulations in 2019 cannot now be on cars in 2020.
"Regarding Mercedes, I'm sure those questions will get asked, because if the team in question are guilty of receiving, surely the team that has provided has also been in breach of those regulations?," Horner, whose team beat Mercedes to victory at last Sunday's 70th Anniversary Grand Prix, was quoted as saying by Autosport on Wednesday.
"That's something for the FIA."
Racing Point, which will become Aston Martin next year, is allowed to continuing using the parts at this weekend's Spanish Grand Prix and for the rest of this season despite their sanctions.
Renault and Ferrari are appealing the ruling, partly to understand why Racing Point can keep using the ducts and also to find out more clarity on what can and cannot be copied from other teams.
Racing Point themselves are also set to appeal.
Red Bull has decided not to, but will be watching the legal proceedings closely given any implications on the sharing of information with sister team AlphaTauri.
"Obviously Red Bull are in the unique position that they own 100 per cent of two Grand Prix teams," Horner added.
"So we've always complied stringently with the regulations.
"So for us it's that there is a bigger picture to this, it's not just about brake ducts, it's about what is philosophically allowed, and what isn't."