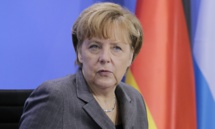 Ending with the phrase "So help me God," Merkel took her oath of office in Berlin in front of parliamentary speaker and former finance minister Wolfgang Schaeuble on Wednesday.
The 15 cabinet ministers took their oath of office before Schaeuble later Wednesday afternoon.
Merkel had earlier been elected to her fourth term as chancellor by the Bundestag, garnering 364 of the 688 votes cast in the secret ballot on Wednesday morning.
At least 355 votes were required in the 709-seat chamber. There were 315 votes against her re-election and nine abstentions.
For the first time, Merkel's husband Joachim Sauer was present for the vote, as was her mother, Herlind Kasner.
German President Frank-Walter Steinmeier had earlier proposed Merkel - who heads the largest party in the chamber, the Christian Democratic Union (CDU) - as chancellor to the lawmakers in accordance with the constitution. He later put forward the cabinet members.
The leader of Die Linke (The Left), a hard-left opposition party, tweeted that it was a bad day for Germany.
"After months the coalition that lost the election elects #Merkel to the head of the next carry-on-as-before government," Sahra Wagenknecht wrote.
The head of the free-market liberal Free Democrats (FDP) Christian Lindner expressed concerns at the coalition's expenditure plans. "This grand coalition, the last government of Mrs Merkel, is only grand in one way, namely in spending money," he said on German television.
One member of the largest opposition party, the right-wing populist Alternative for Germany (AfD) party was ejected from the visitors' gallery for unfurling a banner reading "Merkel must go!"
An AfD lawmaker from Bavaria, Petr Bystron, was fined 1,000 euros (1,240 dollars) for breaking Bundestag rules by tweeting a photo of his ballot paper with a cross next to "No" and the message "Not my chancellor."
German authorities policing the ceremony also overpowered a man who approached Merkel in a suspicious manner as she was leaving the parliament building, according to video footage.
The man, who was reportedly heard saying "Allahu akbar" ("God is greatest") while approaching Merkel, was shown being overwhelmed by two security personnel in video footage posted online by German newspaper Die Welt.
Merkel had struggled to form a new government since inconclusive election results in September. At first, the centre-left Social Democrats (SPD) refused to join her conservative bloc in government, and then talks with the liberals and Greens collapsed.
A volte-face by former SPD leader Martin Schulz led to a hard-fought 177-page coalition agreement in February. Two-thirds of SPD members finally approved the agreement just under two weeks ago, paving the way for a new grand coalition government under Merkel's leadership.
The three parties in the grand coalition - the SPD, the CDU and its allied Christian Social Union (CSU) - have governed Germany since 2013.
"A great amount of work lies before us," Merkel said at a press conference on Monday in Berlin. "I am optimistic that it will be a success."
Russian President Vladimir Putin, who this week is seeking re-election to his fourth term, congratulated Merkel for her re-election to her fourth term.
Putin sent his congratulations to Merkel in the form of a telegram, emphasizing the importance of developing bilateral relations and constructive collaboration in the international area, the Kremlin said in a statement.
"Putin wished Merkel and all members of the new federal government good health, prosperity and success," the statement said.
Merkel is set to get straight to work with a visit to Paris on Friday to meet French President Emmanuel Macron.
The two leaders, who have had a strong relationship since Macron's election last year, are due to discuss bilateral, European and international topics, according to a government statement.
The visit underscores the close Franco-German relationship, long the key driving force of the European Union.
Swedish Prime Minister Stefan Lofven is also due to meet Merkel on Friday, his office said in a statement, with talks expected to centre on migration, trade and the EU's long-term budget.