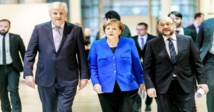 According to information emerging from the closed meeting of the CDU parliamentary caucus, the chancellor received strong support for her views in this regard, which run counter to opinions expressed by the European Commission that treaty changes may not be necessary.
Merkel stressed that the proposed fund should be set up by the member states and not be another EU institution that the commission would have a decisive influence over.
The discussion was held against the backdrop of calls from French President Emmanuel Macron for far-reaching reforms to the EU as a whole, and to its budgetary policy and financing in particular.