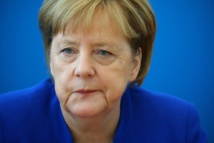 Speaking in Bratislava on the sidelines of a meeting with the leaders of Poland, the Czech Republic, Hungary and Slovakia, the chancellor said it was nothing new to have different opinions on the Nord Stream 2 pipeline.
Germany considered it important for Ukraine to maintain its role as a transit country for Russian gas, Merkel said, acknowledging a key concern expressed by Ukraine and the United States.
She denied that Nord Stream 2 would make Germany and the European Union dependent on Russia for a key resource.