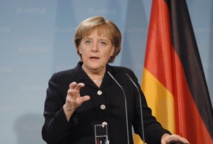 After arriving and being greeted by socialist Prime Minister Antonio Costa, Merkel is scheduled to take part in the opening of a development and technology centre belonging to the German company Bosch in the northern city of Braga.
The conservative German leader was later expected to talk with students at the University of Porto.
It is only the second official visit by Merkel to the country that has emerged from the financial crisis that hit it hard. During her last visit at the height of the crisis in 2012, Merkel faced protests as many blamed Germany's hard line in the EU for the austerity, tax rises and job cuts the previous conservative government imposed.
On Thursday, Merkel is scheduled to continue her visit with talks in the capital Lisbon with President Marcelo Rebelo de Sousa and Prime Minister Costa.
Merkel and Costa plan to discuss the completion of the economic and currency union and the budget for the European Union for the next several years, the Portuguese government said, adding that the refugee situation in Europe would also be on the agenda.