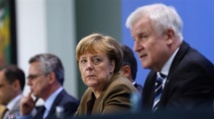 The speech comes seven months ahead of next month's European Parliament elections in May and is likely to touch on the debate over fundamental reforms to the European Union. Some 11 different heads of state and government have made speeches to EU lawmakers in recent months about the topic, including French President Emmanuel Macron.
Merkel and Macron agreed on several financial and banking reforms for the bloc in June, including the creation of a eurozone budget from 2021 onwards, uniform banking regulations and a framework to bail out failing lenders using the European Stability Mechanism (ESM).
A renewal of the EU has been under consideration since Britain voted to exit the EU in 2016, but little progress has been made on the subject. Only a few minor reforms of the bloc's economic and monetary union are under debate and could be decided in December.
As head of the European Union's largest economy, Merkel has wielded considerable influence in the bloc during her nearly 13 years as chancellor.
After months of infighting in her three-way coalition government and two disastrous state elections, Merkel announced on October 29 that she would resign as leader of the CDU and said that her current term as chancellor would be her last.