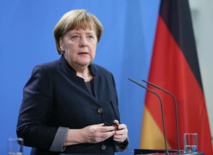 The long-term leader of the biggest EU economy takes stage one day after US President Donald Trump, who railed against climate doom-sayers at the summit in the Swiss Alpine town of Davos.
The German government last week hammered out a plan to phase out coal-fuelled power by 2038, with a multi-billion-euro deal to compensate energy firms and regions that will lose out in the process.
Germany also plans to phase out nuclear energy by 2022.
Merkel, who plans to leave politics after next year's election, has been faced with waning support for her conservative party coalition in recent years.
Besides Merkel, Venezuelan opposition leader Juan Guaido is scheduled to address the world leaders and multinational executives gathered in Davos.
In Brussels on Wednesday, Guaido called for stepping up sanctions targeting the government of President Nicolas Maduro, and for backing free elections in his country.
He is currently on a tour to shore up support among foreign allies.