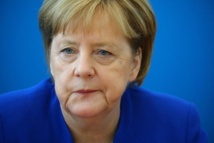 The comments by Merkel, who is in the twilight of her political career as she prepares to step down as chancellor in 2021, were seen as a clear rebuke to the actions of US President Donald Trump.
Her lengthy address was seen as a highpoint of the annual conference and drew a standing ovation from the crowd, including some 30 heads of state and government and around 90 government ministers, including US Vice President Mike Pence.
She called for the Intermediate-Range Nuclear Forces Treaty (INF) to be saved after the US announced earlier this month it was withdrawing effective August 2, citing repeated Russian infringements over years.
The US withdrawal was "inevitable," Merkel said, while noting that it was a matter of interest that a "treaty that was basically made for Europe, a disarmament treaty that affects our security, is being cancelled by the US and Russia as the successor to the Soviet Union."
But Pence repeated his demand for the three European countries party to the treaty - Germany, Britain and France - to withdraw from it.
"The time has come for our European partners to stop undermining US sanctions against this murderous revolutionary regime," he said, reiterating criticism he had lobbed at the EU during a conference on the Middle East in Warsaw earlier in the week.
"The time has come for our European partners to withdraw" from the Iran deal and "bring the economic and diplomatic pressure necessary to give the Iranian people, the region and the world the peace, security and freedom they deserve," he told conference after Merkel spoke.
Merkel suggested rather that China should join in arms limitation talks to create a new, expanded version of the INF in order to save it.
While Beijing has strong reservations on limiting its missile capability, disarmament was an issue that everyone should be concerned about, Merkel said.
The 1987 INF binds only the US and Russia, while China is now reported to have almost 2,000 ballistic and cruise missiles with ranges covered by the INF of between 500 and 5,500 kilometres.
In the face of Trump's scepticism of US allies in the North Atlantic Treaty Organization (NATO), Merkel called for international cooperation to be boosted. "We have to think in networked structures. The military component is one of them," she said.
"We need NATO as an anchor of stability in turbulent times. We need it as a community of values," she said.
Trump has castigated NATO members for failing to meet the target of spending 2 per cent of gross domestic product on defence, singling out Germany in particular.
Turning to suggestions from Trump that the US was considering a rapid draw-down of its 14,000 troops in Afghanistan, Merkel urged caution. Germany has indicated that the position of its 1,300 troops in the country would be untenable without the US presence.
And she defended the Iran nuclear deal, a major point of contention between the US and its European allies in NATO, even though the deal has successfully limited Iran's ability to produce enriched uranium and thus build a nuclear weapon.
While there was agreement with the US on the aim of putting Iran under pressure, there was a difference of opinion on the means, the chancellor said, adding that preserving the deal could help to pressure Iran in other areas.
The US has withdrawn from the deal hammered out in 2015 by the five permanent members of the UN Security Council plus Germany. It charges Iran with meddling in conflicts throughout the region.
Turning to difficult relations with Russia, Merkel cautioned against limiting ties with the country, saying this would leave cooperation with Moscow entirely to China.
"We would also like to participate a little in trade relations," the chancellor said, defending the Nord Stream 2 pipeline currently under construction in the Baltic Sea, which doubles gas supplies directly from Russia to Germany.
She insisted that the European Union's dependence on Russian gas did not depend on whether the pipeline was built or not in contradiction of views expressed by the US Administration and other NATO allies, particularly in Central and Eastern Europe.
"A Russian molecule of gas remains a Russian molecule of gas, whether it comes in via Ukraine or via the Baltic Sea," she said.
"Given that we imported Russian gas on a large scale during the Cold War, I cannot see why the times have deteriorated to such an extent that we do not say that Russia remains a partner."
Here too, Pence took a radically contrary line, calling on the European Union to act to stop construction on Nord Stream 2.
"America has stood strong against efforts to divide our alliance through political interference or energy resources. And we commend all our European partners who have rejected Nord Stream 2, and call on others to do the same," he said.