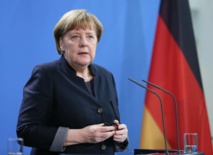 "I am very grateful to Chancellor Merkel for her visiting me in the hospital," Navalny said in a statement on Twitter. "There was a meeting, but it should not be called 'secret.' It was more like a private meeting and conversation with my family."
Navalny was discharged from Berlin's Charite hospital last week after more than a month of treatment. German, Swedish and French laboratories have determined that he had been poisoned with the Soviet-developed nerve agent Novichok. He had fallen ill while on a campaign trip in Siberia.
Novichok was also used in the near-fatal poisoning of former Russian double agent Sergei Skripal and his daughter Yulia in the southern English city of Salisbury two years ago.
Notepad