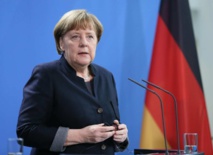 "The response to the pandemic can certainly not entail renationalizing all international supply chains," the centre-right politician said. "Then everybody would pay a very high price."
Roberto Azevedo, the head of the World Trade Organization (WTO), pointed out the multitude of current unilateral measures, Merkel reported, with export restrictions within the food sector being most alarming.
Unemployment would lead to poverty and from there to hunger, she said, adding that providing humanity with food was of vital importance.
Guy Ryder, the general director of the International Labour Organization, highlighted the importance of creating jobs in developing countries during the videoconference, Merkel also said. Less consumption in developed countries would have dramatic effects there.
The fight against poverty would therefore be of major importance in the coming years - especially since economically weaker countries lack the financial means for major economic stimulus programmes.
"For Germany, this means we need to continue to invest, rather than cutting development aid," the Chancellor said.
Merkel also emphasized the importance of international cooperation between countries.
"Multilateralism was already facing a major challenge before the pandemic, and this challenge has not diminished," she said.
The coronavirus pandemic would not end until there was a vaccine against the virus or good treatment options. These should therefore be understood as "common global goods," meaning they should be made available to all.
Economists are broadly convinced that the sweeping measures countries have turned to in efforts to slow the spread of Covid-19 will lead to a painful crash - and Germany is particularly vulnerable given its heavy reliance on exports.
Meanwhile, the WTO is in the midst of a separate crisis because the United States has been blocking the appointment of appellate judges, amid international trade tensions.
Merkel has repeatedly called for multilateral cooperation as well as reforms at the global trade body.
Notepad