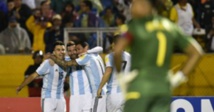 Messi scored a hat-trick when it really mattered to lift Argentina 3-1 past hosting Ecuador, and Ronaldo's Portugal won a winner-takes-it-all match 2-0 against Switzerland on Tuesday.
While Russian organizers and FIFA marketing officials likely all had a big sigh of relief to have the two icons at the World Cup, others were not so lucky.
Robben's brace in a Dutch 2-0 over Sweden was to no avail as the 2010 runners-up and 2014 third-place finishers fell five goals short and missed out on a second consecutive major event following Euro 2016.
Sanchez also failed to qualify with two-time reigning Copa America champions Chile, as they crashed to a 3-0 defeat at Brazil.
The United States were another prominent casualty as the regular qualifying session in Europe, South America and the CONCACAF region ended while big name players not at the World Cup also include Wales' Gareth Bale and Pierre-Emerick Aubameyang of Gabon.
Now 23 teams, including directly entered hosts Russia, are known, and 848 of the 871 games have been played, producing 2,416 goals, 2,884 yellow cards and 148 red cards, according to the ruling body FIFA.
The remaining nine teams will be decided in four European play-off ties to be drawn October 17; the last round of group games in Africa where three berths remain to be decided; and intercontinental play-off ties New Zealand v Peru and Honduras v Australia.
Argentina's eventual escape after a mainly dismal campaign was thanks to Messi's hat-trick in Quito, and the superstar can now hope of lifting the trophy next year after all having been beaten in the 2014 final by Germany.
"Football owes the World Cup to Messi. He is the best player in history," Argentina coach Jorge Sampaoli said.
Messi said "It would have been crazy for Argentina to miss the World Cup," and the rest of the world seemingly thought likewise.
"Lionel Messi demonstrates that God exists," U2 singer Bono said at a concert in Argentina which started later than planned to allow fans to watch the football first.
The dramatic South American finale saw Uruguay and Colombia join long-qualified Brazil, while Peru made it into the play-offs and the Confederations Cup runners-up Chile won't return to Russia.
Germany's Sport Bild pointed out that Chile fell by the wayside partly because they decided to take the case against an ineligible Bolivian player to the the Court of Arbitration for Sport after a 0-0 draw.
The CAS declared Chile winners, giving them two additional points; but also named Peru winners against Bolivia after they had originally lost the game in similar circumstances. Without the ruling, Chile would have made the play-off at the expense of Peru.
Messi's long-time rival for the World Player of the Year, Ronaldo, also made it without a possible play-off detour as Portugal held off the Swiss who dropped their first points.
The Swiss would have topped five of the nine European groups with their 27-points haul but must now hope to survive November play-offs which will also feature four-time World Cup winners Italy, Croatia, Denmark, Greece, Northern Ireland, Ireland and Sweden.
World Cup and Confederations Cup holders Germany led the way with 10 wins out of 10 and a stunning goal difference of 43-3; while Robert Lewandowski led Poland to the World Cup with a UEFA area qualifying record of 16 goals in 10 games.
While former champions France also qualified directly Tuesday the three-time finalists Netherlands were the most prominent casualty, after which Robben ended his long international career.
Euro 2016 semi-finalists Wales, Ukraine, Turkey and Bosnia were other non-qualifiers while popular Iceland made it for the first time.
The CONCACAF session also produced a first-timer in Panama, whose late 2-1 over already qualified Costa Rica saw them through because the US team crashed 2-1 at bottom side Trinidad and Tobago and will miss their first World Cup since 1986.
"We have no excuses - we failed today," US coach Bruce Arena said.
Honduras will meanwhile face Australia after the Socceroos ended Syria's stunning run with a 2-1 extra-time victory in an Asian zone play-off.