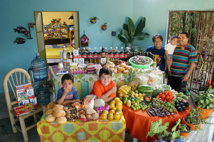 If the United States pursues that idea, "many families" will suffer an "irreversible damage," said Foreign Minister Luis Videgaray said at a news conference.
"We immediately made known to the (US) Department of Homeland Security our grave concern if that were to happen," he said.
"We hope that the opinion of the Mexican government will be taken into consideration when the final decision by the US government is made about this possibility, which was announced in a worrying manner," he said.
Department of Homeland Security (DHS) Secretary John Kelly said Monday that the department was weighing an initiative that would split children from their parents if they were caught trying to enter the United States illegally.
"I would do almost anything to deter the people from Central America to getting on this very, very dangerous network that brings them up through Mexico into the United States," Kelly said in a CNN television interview.
"We have tremendous experience in dealing with unaccompanied minors," he said, noting the DHS turns them over to the Health and Human Services department, which puts the children in foster care or links them with parents or family members in the United States.
Kelly is one of the most fervent supporters of US President Donald Trump's anti-immigration policies.
Trump, who took office on January 20, ran on a platform arguing that mass immigration by unskilled workers costs US taxpayers billions of dollars and depresses wages and job opportunities.
The Republican businessman-turned-president vowed to build a wall on the US southern border with Mexico to stem illegal immigration and keep out migrants he branded drug-dealers, murderers and rapists.
Federal agents in recent weeks have launched sweeps across the country to round up undocumented immigrants.
On Monday, Trump signed a revised ban on refugees and on travelers from six Muslim-majority nations, effective March 16.
With his first executive order rejected by federal courts, the new, scaled-back order freezes refugee admissions for 120 days and halts new visas for Syrians, Iranians, Libyans, Somalis, Yemenis and Sudanese citizens for 90 days.