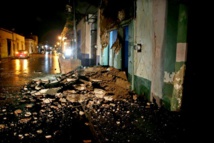 President Enrique Pena Nieto called it the strongest quake to hit the country in nearly a century and urged citizens to remain vigilant as 185 aftershocks rattled the region, with a handful greater than magnitude-5.
The initial quake was centred 133 kilometres from the town of Pijijiapan, in the state of Chiapas, and struck at a depth of 58 kilometres under the Pacific Ocean, the Mexican National Seismological Service said.
The quake hit at 11:49 pm on Thursday (0449 GMT Friday), when many people had retired for the evening.
The shock was felt in the capital Mexico City, about 1,000 kilometres away from the hard-hit southern coast, where residents fled from swaying buildings and into the streets, many in their pyjamas.
Authorities were surveying the quake-stricken zone as daybreak began to reveal the extent of the devastation. The two hardest-hit states - Chiapas and Oaxaca - are among Mexico's poorest.
Oaxaca Governor Alejandro Murat told broadcaster Televisa that 23 people died in his state, where a state of emergency had been declared.
Seven perished in neighbouring Chiapas and two in the state of Tabasco, according to authorities.
Both of the fatalities in Tabasco were children, Governor Arturo Jimenez said. One died at a hospital after a power failure caused a ventilator to fail, while the other was killed when a wall collapsed.
About 1.8 million households lost power in the aftermath of the quake but electricity has subsequently been restored to most, Nieto said.
Pictures on social media showed crowds huddled in the streets near piles of rubble, while videos showed buildings violently shaking. The Angel of Independence, a Mexico City landmark, wobbling from side to side.
Members of Mexico's army and navy have deployed to the affected areas to aid in recovery.
A hotel collapsed in the Oaxaca town of Matias Romero, however there was no loss of life, authorities said.
Education officials closed schools across the earthquake zone on Friday in order to inspect buildings to make sure they are structurally sound.
All airports and sea ports were fully operational, said Luis Felipe Puente, head of Mexico's national emergency services. Mexico City's metro service was also running as usual.
Damage was reported across the border in Guatemala, although President Jimmy Morales said the extent of it was unknown. "Please remain calm," he wrote on Twitter.
The earthquake sparked tsunami alerts for Mexico's Pacific coast, as well as countries in Central America and the western Pacific Ocean, including New Zealand and Fiji.
Authorities in Chiapas were urging people to evacuate to higher ground. Waves measuring about 1 metre have been observed in the major seaport of Salina Cruz, but the worst-case forecast of 3-metre-high surges has not come to pass.
Several hundred people were staying in emergency shelters in Chiapas, local officials said.
Mexico has substantial quake activity and is also prone to other natural threats such as hurricanes, floods and volcanoes.
On September 19, 1985, thousands were killed when a violent 8.1-magnitude earthquake destroyed large parts of the capital, prompting new legislation that strengthened building standards.
As Mexico's Pacific coast was under tsunami warnings, Hurricane Katia was swirling in the Gulf of Mexico with top winds of 144 kilometres per hour. The storm is forecasted to make landfall early Saturday.
Notepad