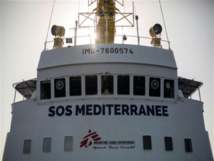 Italy has a new populist government that, since taking office on June 1, has closed its ports to non-governmental organizations (NGOs) specializing in migrant rescues, as it wants sea migrants to be sent back to Libya or distributed across other EU nations.
"The boat is now in Maltese waters and has a Gibraltar flag. At this point, the United Kingdom should take responsibility for the safeguarding of the shipwrecked," Toninelli wrote on Twitter, referring to the Aquarius.
Interior Minister and deputy Prime Minister Matteo Salvini, who is spearheading Italy's hardline policies on immigration, also took to Twitter to say that the NGO ship "can go wherever it wants, [but] not to Italy."
The Aquarius, run by SOS Mediterranee and Doctors Without Borders (MSF), was the first charity ship to be turned away from Italian ports in early June. It is now one of the last two NGO vessels still operating in the central Mediterranean.
In an online blog, its crew reported that the vessel was standing by at 32 nautical miles (60 kilometres) from European shores, with 141 people, including 67 unaccompanied minors, two children under the age of 5 and two pregnant women.
They were rescued Friday in two separate operations coordinated by Libyan authorities, who then refused to tell the Aquarius where it could take the migrants, the crew said. On Saturday, both Italy and Malta turned down port docking requests, the crew added.
On Monday, Malta intervened in a separate case concerning the rescue of 114 migrants from a rubber dinghy that was taking in water about 53 nautical miles south of Malta, according to a statement from the Maltese Armed Forces.
On Sunday, SOS Mediterranee and MSF accused EU governments of obstructing their work and reported that rescued migrants "told our teams that they encountered five different ships which did not offer them assistance before they were rescued by Aquarius."
According to the two organizations, 70 per cent of the migrants hail from Somalia and Eritrea, and "many" are "extremely weak and malnourished" and "report that they were held in inhumane conditions in Libya."
Notepad