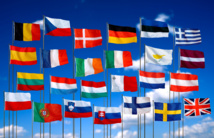 However several important issues remained unresolved, including how the budget would be financed.
French Finance Minister Bruno Le Maire called the results of the meeting a "breakthrough."
"We have also created the eurozone budget and agreed on the key elements of its structure and its governance," Le Maire said in a statement.
"We have agreed how it should work, and what its key priorities will be. For the first time, we will start to think as a coherent block about the future and coordinate our economic policies," he continued.
"We still have a long way to go - in particular on how we finance the new budget - and I don't underestimate the challenges ahead."
The idea of a eurozone budget has been around for several years, as a means of protecting the currency area against future economic downturns.
French President Emmanuel Macron initially pitched a stand-alone multi-billion-euro crisis fund, which was later whittled down to a more modest Franco-German proposal for a budget to support reforms and economic convergence.