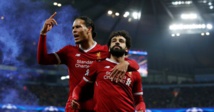 Nagrig, Egypt -
By Amr Mostafa,
– Hemmat Mostafa is disappointed. The 37-year-old woman has been waiting for hours outside the house of Haj Salah, the father of Liverpool forward Mohammed Salah, in an Egyptian Nile Delta village.
"I came here after I heard in the media that Mohamed Salah offers aid to the needy," the mother of three children says outside the three-storey house in the village of Nagrig.
"I have been here for long hours. There is nothing. The door of the house is closed," she told dpa, pointing to the Salah house.
"Why do they talk about his charity if I can't get it?" she asks while carrying a toddler on her shoulder.
The woman, whose husband suffers from a hearing impairment, says she has been debt-ridden after defaulting on repaying a loan of 10,000 Egyptian pounds (560 dollars) to start a project to sell vegetables.
"I will be jailed," she sobs while leaving for her nearby city of al-Mahallah.
Mostafa is one of hundreds of poor Egyptians who have been pouring into Salah's birth village from around the country seeking financial support, according to his family's neighbours.
The Egyptian King, as he is nicknamed by Liverpool fans, is famous for offering financial support and helping improve the quality of life for people in his village.
To many among the poor in Egypt, the 25-year-old professional is a lifeline amid economic woes.
In recent months, Egyptians have experienced hard times amid austerity measures taken by the government of President Abdel Fattah al-Sissi that are linked to a 12-billion-dollar bailout from the International Monetary Fund (IMF).
They include energy subsidy cuts and tax hikes aimed at reviving Egypt's battered economy.
Hassan Bakr, an employee at Salah's charitable foundation in Nagrig, says the footballer's aid is limited to the residents of the village.
"The foundation cannot afford assisting the very large numbers of people who are coming from across Egypt to Nagrig," he told dpa.
"The foundation gives financial aid to widows, divorced women and poor people in the village."
It also contributes to treating patients with renal failure and other ailments, according to Bakr.
"Salah has also donated 5 million Egyptian pounds for the construction of a school and an ambulance facility in his village," he adds.
Nagrig, around 120 kilometres north-west of Cairo, is full of narrow alleys and lacks infrastructure and municipal services.
Salah's assistance for his villagers is overseen by mayor Maher Shtayeh, who says that the Liverpool supremo has no magic wand.
"He is a charitable player, who donates as much as he can. But in the end, he is a football player, not Aladdin's lamp, or a businessman," he said in recent media remarks.
The influx of aid seekers to Nagrig have prompted Salah's family to be confined to their house, and stop speaking to the media.
Salah is dubbed in Egypt as "the good guy." He recently starred in an anti-drug campaign frequently aired on Egyptian television stations.
For many in his village, he is an idol and a role model.
"We have a big star and a big dream," says Sameh Farhat, as he coaches a group of football rookies on a field about 500 metres from Salah's family house.
"One day, the captain [Mohamed Salah] was like you," Farhat adds, motivating about 60 players aged between 7 and 15.
A teenager named Salah and dressed in the Salah 11 shirt, says he has been training as a forward for four years. "I want to be like Salah."
Mohammed Yosri, who attends the school where Salah once studied, hopes to be a brilliant player like Salah. "He is a good man and always there to help people."
Villagers praise Salah for his humility.
"He is a modest person," says Ibrahim Gazar, the owner of a local coffee shop popular for showing Salah's matches.
Salah scored 32 goals in this season's English Premier League. He was also instrumental in sending Egypt to the World Cup in Russia for the first time in 28 years.
"Whenever he comes to the village, he is keen to greet its residents. His family is humble as well," Gazar adds.
A young man sitting at the cafe chimes in: "We are all proud of him."