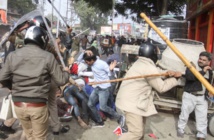 "I appeal to my sisters and brothers of Delhi to maintain peace and brotherhood at all times," Modi said on Twitter, in his first public reaction to the violence in the capital.
Modi said he had held an extensive review of the situation. "Police and other agencies are working on the ground to ensure peace and normalcy," he said.
Protests over the controversial citizenship law, which began on Sunday, have been marred by stone-pelting between rival groups, arson and vandalism.
The law fast-tracks citizenship for religious minorities from neighbouring Muslim-majority countries, but excludes Muslims from the list.