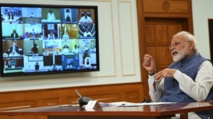 The violence erupted at Galwan Valley in Ladakh on Monday night, where the two sides have been in a stand-off since early May. It was the first deadly clash between the neighbours in at least 45 years.
Forty-three Chinese soldiers were killed or injured, Indian news agency ANI reported, quoting Indian government sources, but this was not yet confirmed by Beijing.
Premier Narendra Modi, top ministers including Defence Minister Rajnath Singh and Foreign Minister Subrahmanyam Jaishankar, as well as three military service chiefs met late Tuesday to take stock of the tension at the border, Defence Ministry officials said.
Four Indian soldiers were in critical condition, ANI reported on Wednesday amid indications that the death toll could rise.
The Indian army said both Indian and Chinese troops "have disengaged" at the Galwan area. It said the incident involved no shooting, while Indian media reported that there was hand-to-hand combat involving batons and stones.
India blamed China for trying to "unilaterally change the status quo" of the de facto border, known as the Line of Actual Control (LAC), rebutting China's claim that Indian soldiers had crossed the border.
India and China fought a brief border war in 1962 and dispute several sections along their ill-defined 3,500-kilometre border. There have been skirmishes after that but no loss of life at the borders since 1975, when four Indian soldiers were killed in an ambush by Chinese troops.