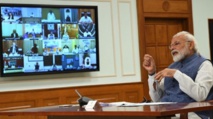 "We must understand that the virus is as deadly today as it was at the beginning and we need to be even more careful," Modi said during his monthly radio address.
He advised people to continue wearing masks, washing their hands and upholding social distancing and hygiene rules, referring to the measures as "our weapons to fight the virus."
India's Health Ministry reported 48,661 new infections and 705 deaths on Saturday.
With a total of 138,522 coronavirus infections, India, a country of 1.3 billion people, ranks third among nations worst-hit by the virus after the United States and Brazil.
Experts say that with testing rates per million comparatively low, this may not reflect the real numbers.
Covid-19 cases in India have spiked since mid-June as the country emerged from a strict lockdown and resumed economic and other activities and also ramped up testing.
Several regions have reimposed lockdowns for short periods to contain the spread of the disease.
Notepad