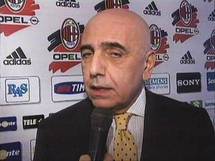 The Milan supremo was speaking a day after Italy's final two Champions League representatives bowed out of the competition leaving the country with no quarter-finalist for the first time in seven years.
Three Italian teams had made it through to the second round but all three fell at the hands of English opposition -- it was the second year running that all three Italian teams in the knock-out stages lost to their English counterparts.
What's more, all four English sides made it through to the last eight and in the two previous years three of the four semi-finalists hailed from the game's country of birth.
More important than the success of the English is the failure of the Italian teams to get to the latter stages over the last two seasons.
"The main reason for this crisis is economic," insisted Galliani, whose AC Milan team were not even in this year's competition after failing to finish in the top four in the scudetto a year ago.
"The English teams, thanks most of all to their stadiums, have higher gate receipts than us. England and Spain bring in more money and that's a serious problem.
"If we don't have the stadiums we won't be able to compete at the top European level any more.
"Ten years ago we (Italy) were ranked number one in Europe and we earnt much more money than the English and Spanish clubs but now we have to let them past.
"I remember in 1990 when Barcelona asked about (Marco) van Basten, Milan earnt more money than the Spanish but now that's no longer possible and if the same thing happened again, we would lose the Dutchman.
"If we don't reverse this trend Italy could even lose third place in the European rankings and that would be a disaster."
However, Galliani believes that if one team can match the English, and more specifically reigning Champions League holders Manchester United -- who defeated Inter Milan 2-0 at Old Trafford and on aggregate on Wednesday -- it is Milan.
"I want to remind you all of a date that no newspaper is talking about any more," he said.
"The Red Devils lost to Milan in the 2007 semi-final at the San Siro and since then they have played 21 Champions League matches without defeat.
"Also the last time Manchester lost at Old Trafford was in the second round in 2005 also against us when we won 1-0 thanks to a goal from (Hernan) Crespo.
"This must mean something."
Milan sit third in the Serie A table and are on course to qualify for next season's Champions League, a competition they last won in 2007, beating English opposition in the semi-final and final.