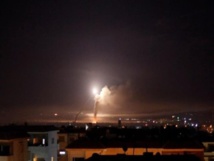 The Britain-based Syrian Observatory for Human Rights said seven pro-Iranian militias of non-Syrian nationalities had died, as well as three pro-government soldiers including an officer in the air force.
The watchdog said one woman was killed by shrapnel at her house in the village of Al-Hejana, south of Damascus.
The strikes also caused massive material damage.
The state-run Syrian News Agency (SANA) had reported late Monday that Israel launched air strikes targeting areas south of Damascus, killing two people and wounding seven soldiers.
The strikes target pro-government troops and pro-Iranian militias in Kiswa, the vicinity of Damascus International Airport and the Air Defense Brigade in Al-Hejana, south of the capital Damascus, as well as parts of Daraa in south-western Syria.
Previous Israeli strikes against targets in Syria were allegedly aimed at preventing Iran, one of Syrian President Bashar al-Assad's main allies, from building up its military influence in the region.