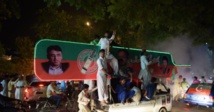 Khan's Pakistan Tehreek-e-Insaf (Movement for Justice) is set to win 115 seats in the 342-seat National Assembly, compared to 62 won by its nearest rival, the Pakistan Muslim League-Nawaz (PML-N) of jailed former prime minister Nawaz Sharif.
Ahead of the final results, the European Union's monitoring team released their report into Wednesday's election.
The mission said that restrictions on freedom of expression and unequal campaigning opportunities tarnished the pre-poll campaign.
Michael Gahler, chief observer of the EU Election Observation Mission to Pakistan, told dpa that his team found reason to have "criticized the overall campaign environment."
The EU team singled out reports of people being intimidated into switching parties ahead of election day.
The military is widely viewed as favouring Khan, and there were allegations of people being forced to switch from the PML-N to Khan's party. However, the EU report did not allude to specific actions by the army.
Of the powerful military's role in the election, the EU report said: "We understand the need for security, however elections are an act of civil society and we look forward to a move to greater civilian rather than military oversight – particularly inside the stations where people are casting their votes."
The military said more than 370,000 troops were deployed all across the country on election day due to fears of Islamist militants attacks and clashes between the rival political groups.
The Free and Fair Election Network (FAFEN), a network of civil society organization in Pakistan, called for authorities to investigate polling "irregularities."
"The election commission should not go into denial mode and investigate the allegations of multiple political parties regarding irregularities during the polling," said FAFEN secretary general Sarwar Bari in the group's report.
FAFEN's listed irregularities include: polls not opening at the scheduled time; the inability of its observers to witness the counting of votes; and results not being displayed at polling stations as per rules.
Sharif's PML-N and the Pakistan People's Party of former president Asif Zardari said they would not accept the results, citing what they called widespread and blatant irregularities in their delivery and in the vote count.
Nevertheless, the PML-N said it was ready to go into opposition in the National Assembly.
Khan declared victory and promised wide ranging social reforms and a rethinking of Pakistan's foreign policy in a televised speech on Thursday, even before official results had started trickling in.
It was not clear when the final results would be announced. The long process of counting the votes has added to fears among Pakistanis that the results were being manipulated.