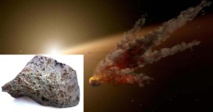 Neither the seller nor the buyer were identified, but the meteorite's new home will be the Tam Chuc Pagoda Complex in Vietnam, according to Boston's RR Auction.
The firm's executive vice president Bobby Livingston told dpa the winning bid came from a representative working with the complex, a tourist attraction in southern Ha Nam province.
The meteorite will be put on display in one of the pagodas and will be open to the public. The complex is well known in Vietnam and among Buddhists, providing a place for prayer and the study of science and nature.
Nicknamed the "Buagaba" or "Moon Puzzle," the meteorite is composed of six fragments that fit together like a puzzle to form a mass weighing nearly 5.5 kilograms. The meteorite's "partial fusion crust" visible on one side was caused by heat as it passed through Earth's atmosphere.
The rock was blasted off the surface of the moon in the distant past - likely by the impact of a different meteorite - then journeyed the 384,000 kilometres to Earth and survived the fiery descent. It was discovered in a remote desert area of Mauritania.
The sale for 612,500 dollars exceeded the auction house's pre-auction estimate of 500,000 dollars. RR Auction said the meteorite is the largest known complete lunar puzzle ever found and one of the most significant examples from the moon to be offered for sale.