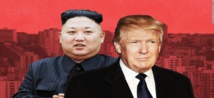 "The deep-rooted hostile relationship and the North Korean nuclear issue cannot be resolved in one single action in a meeting between leaders," Moon told a weekly meeting with his top aides, Yonhap news agency reported.
"Even after the two leaders open the dialogue, we will need a long process that may take one year, two years or even longer to completely resolve the issues," Moon added.
Yet Moon also expressed optimism, saying, "I have both expectations and hopes that tomorrow's summit will be a success."