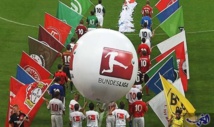 Several matches are already confirmed without fans including the Ruhr derby between Borussia Dortmund v Schalke on Saturday.
Frankfurt's Europa League last-16 match against Basel will meanwhile go ahead as planned with spectators.
In England, Wednesday's match between Manchester City and Arsenal was been postponed "as a precautionary measure," the Premier League said.
It is the first match in the Premier League to be called off due to the coronavirus.
The Premier League said the decision followed the announcement on Tuesday that the owner of English second-tier club Nottingham Forest and Greek side Olympiakos, Evangelos Marinakis, tested positive for the virus.
"Thirteen days ago, Olympiakos played Arsenal at Emirates Stadium in the UEFA Europa League and Mr Marinakis, the Greek club's owner, met with several Arsenal squad members and staff," the Premier League said in a statement released in the early hours of Wednesday.
The league added that "all necessary measures" were being taken and that there were "currently" no plans to postpone any other matches.
All Europe's major leagues have now been affected by outbreak.
Matches in the top two tiers of the Spanish league will be behind closed doors for at least two weeks. The French Ligue 1 and second division matches are also to be played behind closed doors until April 15, while several other European leagues have taken similar action.
The Italian Serie has been suspended until April 3 along with all sport in the country.
Five of the Europa League's eight last 16 first-leg matches on Thursday will be played behind closed doors.