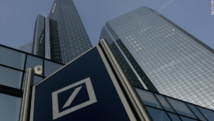 The raids were being conducted at six locations, including corporate offices in Frankfurt and nearby Eschborn, as well as a private residence in the town of Gross-Umstadt in the hope of locating more material, a spokeswoman for the Frankfurt prosecutor's office said.
She added that the suspects included two Deutsche Bank employees aged 50 and 46 and several other suspects, but declined to give further details about them.
On Thursday, around 170 officials from the prosecutor's office, the Criminal Bureau of Investigation, the tax fraud investigation office and the federal police had, among other locations, searched the head office of the bank in the financial hub of Frankfurt.
It is suspected that employees of the Deutsche Group helped clients to set up off-shore companies in tax havens and to launder money from criminal activity.
Deutsche Bank issued a statement on Thursday in which it claimed that it "had already provided the authorities with all relevant information about the Panama Papers."
In 2016, more than 900 customers representing a business volume of 311 million euros (353 million dollars) are said to have been serviced by a company belonging to Deutsche based in the British Virgin Islands.
Suspicions were raised after German federal investigators evaluated data from the so-called Offshore Leaks and Panama Papers revelations about overseas accounts.