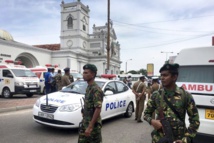 Sri Lanka's President Maithripala Sirisena said the armed forces and police have launched investigations to ascertain who is responsible for the apparent attacks.
"We are trying find the conspiracy behind these attacks," Sirisena said.
He appealed for the public to remain calm so that a full investigation can be carried out.
The head of the Catholic church in Sri Lanka, Cardinal Malcolm Ranjith, said it was not clear whether a local or international group was responsible.
The Catholic church has been supportive of a major crackdown on drugs in Sri Lanka in recent weeks. The campaign has been launched by President Sirisena.
Police spokesman Ruwan Gunasekera said that the injured have been evacuated while security forces have cordoned off the areas and search operations are under way.
The injured included foreigners staying at the three five-star hotels - the Cinnamon Grand, Kingsbury and Shangri-La located in the heart of Colombo.
Only seven per cent of the population in Sri Lanka are Christians. Most are Buddhists.
Security in the capital and the airport was stepped up following the blasts.
Sri Lanka ended a more than 25-year civil war in 2009 in which rebels of the Liberation Tigers of Tamil Eelam (LTTE) sought a homeland for minority Tamils.
The German government expressed shock over a series of bombings in Sri Lanka that have left more than 100 people dead.
"We're horrified by the news that Christians in Sri Lanka were attacked and killed during Easter services," wrote Chancellor Angela Merkel's spokesman on Twitter. "We mourn them and pray for the injured and their family members. Terrorism, religious hatred and intolerance cannot be allowed to win," added the spokesman.
The German Foreign Office's crisis reaction centre wrote that the situation in Sri Lanka was unclear and that it was trying to determine whether German nationals were affected by the attack.