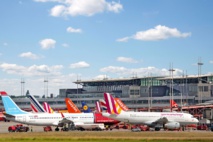 A spokeswoman from the Verdi union confirmed that the industrial action began at 3 am (0200 GMT) as scheduled when workers from the early shift refused to work.
"There are definitely 150 colleagues [on strike] at present," the spokeswoman told dpa, adding that workers from the late shift would join them between 12 pm and 2 pm.
Earlier, a spokeswoman for Hamburg Airport said the strike by ground-handling services, which includes aircraft servicing, baggage handling and bus services, was expected to cause delays and flight cancellations.
A total of 58 flights were initially cancelled on Monday, including 27 arrivals and 31 departures, an airport spokeswoman said.
"More could be added to that," she said.
The union called the warning strike in response to stalling negotiations surrounding its call for a monthly pay increase of 275 euros (315 dollars) for 1,000 ground staff.
"In the collective bargaining we were told that 140 euros more per plane would be required," the Verdi spokeswoman said. With an average of 124 passengers per flight, this is only about 1 euro per passenger in order to fully meet the demands of the union.
"Thirty-five people work on the dispatch of one plane. People have to think about how much they pay for their ticket," she said.
"An unannounced 24-hour warning strike is completely excessive and disproportionate," airport spokeswoman Katja Bromm said.
She advised travellers to arrive extra early and if possible to only fly with hand luggage.
On Monday morning only an emergency crew of ground staff was present, the spokeswoman said. "At the moment there are no shuttle buses from the car park to the airport," she said. A replacement service with taxis would be set up.
Christian Noack, managing director of HAM Ground Handling, which is responsible for ground handling services at Hamburg Airport, was also critical of the industrial action.
Verdi is demanding more than ground-handling services could generate in a tense market situation, he said.
The strike comes just two weeks after a strike by security personnel at Hamburg Airport led to massive disruption.
Notepad