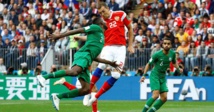 All eyes were glued to the giant television screens in a park at Moscow State University, across the river from the stadium, as Russia started their home tournament with a bang.
"Give me a high five!" a man yelled to everyone around him, slapping hands with apparent strangers united in the revelry of the home win.
A young man with a flag of his native United Arab Emirates draped across his shoulders said he's rooting for Russia. He's a student at the university and said he was proud to root for the country where he's studying.
A woman who had a small Russian flag of white, blue and red painted on her face for the occasion said she really hoped her national team would advance past the tournament's group phase.
"Russia has a good chance because we're playing at home," she said.
Fans were wearing the colours of many of the teams in the tournament. Mexicans in sombreros took selfies with Russians singing the iconic "Katyusha" folk song.
Lines for beer zigzagged through the throngs of crowds watching the match on the massive screens.
Fans sporting the colours of Peru, Brazil and Argentina cheered and joined Russians in chants of "Ros-si-ya, Ros-si-ya!" ("Russia, Russia").
Russia next play Egypt on Tuesday - where the team will surely get a tougher test, regardless of the fun that goes on in the fan zone.