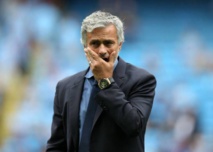 London -
By Bob Bensch,
– Expectations should be running high at Manchester United following last season's second-place finish. Far from it.
That's because manager Jose Mourinho has spent the summer painting a picture of doom and gloom at Old Trafford.
The prickly Portuguese has complained about club's transfer policy, publicly criticised his players and taken shots at rival clubs and the Premier League.
"I'm worried because I'm not training and then I go to the Premier League without lots of players, but it is what it is and we have to try and make the best out of it with the players we have here," Mourinho said on United's summer tour of the United States.
"The preseason is very bad, the positive thing of the preseason is only for the young boys that have a fantastic opportunity to train with us.
"Everything is really bad."
Mourinho has won the FA Cup and Europa League in his first two seasons at United but the league title has eluded him.
That wasn't the case in his previous stops at Porto, Chelsea (twice), Inter Milan and Real Madrid, where he lifted the main trophy at each by the end of year two.
He kicks off his third season on Friday night against Leicester having spent 80 million pounds (104 million dollars) on three players so far this summer and is desperate to add to that.
And with the English transfer deadline moved up to Thursday, he's put pressure on United chief executive Ed Woodward to get some late business done.
"My CEO has known what I want for quite a long time," he said. "He knows what I want.
"I know that he tries his best for me. I still have a few days to wait to see what is going to happen."
With champions Manchester City not looking to slow down any time soon and Liverpool splashing out over 170 million pounds for new players, the United boss feels a tough campaign could be upcoming.
Only time will tell if he truly feels that way or all the bluster is just a smoke screen.
"The other clubs that compete with us, they are really strong, or they already have fantastic teams and squads like Chelsea, Tottenham, Manchester City" he said.
"Or they are investing massively, like, for example, Liverpool, who are buying everything and everybody.
"So if we don't make our team better it will be a difficult season for us."
Mourinho has called on stars such as Paul Pogba, Romelu Lukaku and Marcus Rashford to speed up their recoveries from the World Cup ahead of Friday's opener, another bone of contention for the manager.
"We were unlucky to get the Friday match," he said.
"We could have Sunday but we were unlucky to get the Friday so Monday, Tuesday, Wednesday, Thursday is not enough. We'll see.
"Any help that can come from them is welcome."
For now, Mourinho knows he'll just have to do with those at his disposal.
"We have to organize the week in a way that we can arrive fresh for Friday because Friday starts the Premier League and we play for points and Friday we go with the players we have," he said.
"There is no time to cry for the players that are not going to be.
"On Friday we go with the best possible team."