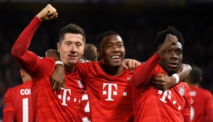 Mueller had said in a television interview after Wednesday's cup semi-final win over Eintracht Frankfurt it was "a little paradoxical ... when you always speak about new signings and at the same time salaries are cut."
This prompted a rebuke Saturday from sports director Hasan Salihamidzic who asked players to refrain from public statements on the club's transfer policies.
Mueller then took to Twitter on Sunday, saying in a video his statement had been interpreted in a provocative way by the media, and that an impression was created that even in these difficult times big transfers were still possible simply by snapping your fingers.
The former German international said they gave up salary to help other club staff amid the coronavirus crisis, and insisted he still wants top transfers at Bayern who can clinch an eighth straight Bundesliga title on Tuesday.
"Personally, I want the best possible squad next season. I have big goals, I want to win the Champions League. I want us to attack, to continue the run we are currently having," Mueller said.