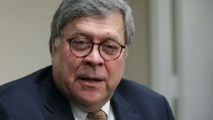 "Everyone will soon be able to read it on their own," Barr said in the letter published by the Washington Post and other outlets.
Barr said the 400-page report was being redacted to comply with legal issues, including sensitive matters of intelligence gathering or matters of personal privacy relating to "peripheral third parties."
He said there are no plans to submit the report to the White House for a "privilege review" of the content before release.
Barr said he would agree to testify before Congress in early May, after the report is made public.
Mueller was tasked in 2017 with investigating any Russian meddling in the 2016 US election and any ties to the campaign of President Donald Trump. He submitted his final report to Barr a week ago.
According to a four-page summary released by Barr on the weekend, Trump was cleared of collusion and no decision was made with regards to obstruction of justice.
In his letter to Jerry Nadler and Lindsay Graham - respectively, the chairmen of the judiciary committees at the House of Representatives and the Senate - Barr insisted his memo from Sunday was not a full-summary but the "bottom line."
Trump has been doing a victory lap since Barr's letter was released on Sunday, saying he is exonerated.
The Mueller investigation has landed convictions of several people who were in Trump's inner circle, including his former campaign manager, national security advisor and personal lawyer.
However, their crimes were not connected to any collusion with Russia during the campaign.