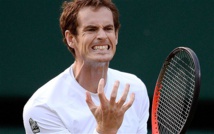 "I didn't have high expectations at all. I think things have probably got a little bit better maybe with each match, as well. Definitely on the return side of things, that's probably the thing I was most happy with today. And, yeah, I didn't expect to be playing in the final that's for sure."
The 32-year-old had not played a competitive match since the Australian Open in January, where he feared his career might end because of the frustrating hip injury.
But now after what he describes as a "life-changing" procedure performed by a surgeon who has operated on members of the British royal family, he is free from pain.
"No pain in my hip at all, zero," added Murray.
"My back's a bit stiff. You're sort of getting down low for a lot of balls and you're always kind of in a crouched-over position in doubles a bit more than when you're in singles.
"My arm is a little bit tired from serving and stuff. But my hip's been brilliant so far. I don't feel anything at all. It's amazing."
Their quarter-final match with British pair Dan Evans and Ken Skupski was suspended due to bad light on Friday, with Murray and Lopez taking the first set 6-3 and trailing 4-5 in the second set.
When the match resumed after the singles semi-finals, Murray and Lopez battled back to force a tie-break and finished off the contest with a 6-4, 7-6 (7-3) result.
Lopez had just claimed victory over Canada's 18-year-old Felix Auger-Aliassime to enter the singles final on Sunday.
"I think the first hour after my singles I still had the energy from the singles match that I won," said Lopez.
"I was so happy. So I put this energy into the beginning of the doubles match. Well, the match that we couldn't finish yesterday and the first set of the semis after."
They then faced Henri Kontinen of Finland and Australian John Peers in the semi-finals immediately and that match came to an emphatic end with Murray-Lopez claiming a 7-5, 6-7 (5-7), 10-7 victory.
The Briton-Spaniard duo secured the first break of the match at 6-5 before an ace from Murray secured the first set after 38 minutes.
In the second set, Murray was serving for the match after a fierce forehand from the 32-year-old Scot opened a break again at 6-5.
However, a poor service game allowed the Kontinen-Peers pair to force a tiebreak.
Two netted returns gave Kontinen and Peers a 5-3 advantage and Murray overcooked a return to see a final 10-point decider.
A double fault from Peers saw Murray and Lopez stretch 7-4 ahead and even though Kontinen-Peers narrowed the gap to 8-7, two strong serves from Lopez saw them through to Sunday's final.