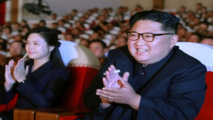 South Korean authorities would be "forced to pay a dear price" if they let this situation go on, North Korean leader Kim Jong Un's sister Kim Yo Jong said in a statement carried by the Korean Central News Agency.
Good faith and reconciliation can never go together with such hostile activities, she added.
Kim Yo Jong is first vice department director of the Central Committee of the Workers' Party of Korea.
She was referring to anti-Pyongyang leaflets sent across the border last week by a group of North Korean defectors, South Korean news agency Yonhap reported.
Some 500,000 leaflets criticizing the North Korean leader for threatening to take "shocking actual action with a new strategic nuclear weapon" have allegedly been distributed.
Without replying directly to the threat, South Korea's Ministry of Unification on Thursday called on people to cease their flyer activities.
Ministry spokesman Yoh Sang Key said the practice was endangering residents of the border region, adding that legislation it was in the pipeline. Seoul was seeking a "fundemantal solution for the contentious activities," he said.