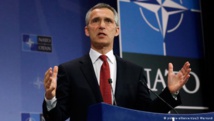 The defence ministers met in Brussels just one month before a NATO summit, where the alliance's leaders are set to signal their resolve to respond to new threats, notably from Russia, and also reassure the United States of their willingness to spend more on defence.
"The decisions we have taken today pave the way for a successful summit in July, with more investment, more equitable burden sharing and a strengthened defence posture," Stoltenberg said.
He said that defence spending by Canada and European allies was projected to have a real increase of 3.8 per cent in 2018 compared to the previous year, making it the fourth consecutive year where non-US allies increased expenditure.
The issue of defence spending has been repeatedly brought up by the US, which has the alliance's biggest defence budget. US President Donald Trump has been especially outspoken in his demand that Canada and European allies spend more.
"President Trump has welcomed these figures, because he has really recognized that this is progress," Stoltenberg said.
Allies had agreed in 2014 to up their defence spending to reach 2 per cent of their gross domestic product (GDP) by 2024.
German Defence Minister Ursula von der Leyen said her country was fully behind NATO's goal to spend 2 per cent of GDP on defence, adding that Berlin was making progress in that direction.
Von der Leyen recently floated plans to earmark 1.5 per cent of GDP for defence spending by 2025. The country is also NATO's second-largest troop provider, she noted Thursday.
"When I speak to Americans they are always impressed when they realize that since [the 2014 NATO summit in] Wales we will have achieved an increase of 80 per cent in a decade," the German minister said ahead of the meeting with her counterparts in Brussels.
The push to spend more and update defence capabilities come mainly due to the growing threat from Russia, following the country's invasion of Ukraine's Crimean peninsula in 2014 and its support for separatists in eastern Ukraine.
During the two-day meeting that began on Thursday, NATO defence ministers approved a new initiative, dubbed the "Four Thirties," which will enable NATO to mobilize 30 land battalions, 30 air squadrons and 30 combat vessels within 30 days. It would comprise around 30,000 troops, 300 aircraft and at least 30 navy vessels or submarines.
"This shows our determination to instil a culture of readiness across the alliance," Stoltenberg said.
Ministers also gave the formal go-ahead for new command centres in the German city of Ulm and in the US city of Norfolk, with a combined increase of more than 1,200 posts.
"These headquarters will be essential for alliance reinforcements," Stoltenberg said, adding that the new command centres will ensure NATO has the "right forces in the right places at the right time."
Other initiatives discussed on Thursday included reinforcing NATO's maritime posture, to respond in part to Russian threats in the Mediterranean, and efforts to speed up the deployment of troops and equipment across Europe, for example by tackling customs procedures and weak infrastructure such as road bridges.
Besides the budget issue, allies are facing several other trans-Atlantic rifts that threaten to overshadow the July summit. Those include the US decisions to withdraw from the Iran nuclear deal and impose steel and aluminium tariffs on European Union countries.
Stoltenberg acknowledged that "there are differences" between the US and its European allies, but also among EU countries regarding the future of Europe, noting that this was "nothing new."
"I think what we have learned and seen from history is that NATO is able to stand united around our core task and to deliver collective defence, deterrents - that we protect each other."