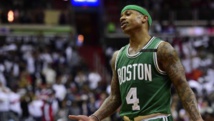 Thomas made his expletive-laced remark to the spectator during Boston's 121-102 loss to the Washington Wizards last Sunday, a defeat that left the sides level at 2-2 in their best-of-seven Eastern Conference second round series.
Thomas scored 53 points in a game-two Boston victory but has been contained in the past two contests by Wizards defenders.
The punishment for "directing inappropriate language toward a fan" came only hours before the teams were set to meet for game five in Boston, with game six set back in Washington on Friday and a seventh game, if needed, to be played in Boston on Monday.
Either the Celtics or Wizards will advance to face the defending NBA champion Cleveland Cavaliers in the best-of-seven Eastern Conference finals with that winner advancing to next month's NBA Finals.
Thomas averaged 25.6 points, 5.6 assists and 3.5 rebounds a game this season for the Celtics, who had the best record in the East at 53-29 and would own a home-court edge on Cleveland if they advance. The Cavaliers would have the home-court edge over Washington.