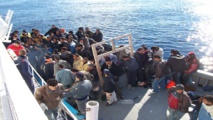 "Through the coordination of the European Commission, with the cooperation of Malta, the migrants onboard the NGO vessel Alan Kurdi will be redistributed among four EU States, Germany, France, Portugal and Luxembourg," a Maltese government statement said.
"None of the migrants will remain in Malta," and "the ship Alan Kurdi will not be allowed to enter Malta," the government added.
The migrants will be transferred from the NGO boat to a Maltese vessel that will bring them ashore, a Maltese diplomat said.
The Alan Kurdi initially rescued 64 migrants, but two women were evacuated to Malta for medical reasons over the past few days. Overnight, a Sea-Eye crew member was also evacuated to Malta due to exhaustion, the NGO said in a statement.
There have been several stand-offs in the past months between NGOs seeking to take rescued migrants to Europe and the governments of Italy and Malta, leading to migrants being stranded at sea for days, sometimes in dangerous sea conditions.
After rescuing the migrants last week, the Alan Kurdi headed first for the Italian island of Lampedusa, before changing course for Malta.
Malta and Italy have taken a hard line against migrant arrivals from North Africa, inflaming the bitter disagreement among EU countries about who should take responsibility for those rescued at sea.
"Once again, the smallest member of the European Union was put under unnecessary pressure being asked to resolve a case which was neither its responsibility nor its remit," the Maltese government said. "A solution was found in order not to let the situation deteriorate further while making it clear Malta cannot keep shouldering this burden."
Before Saturday's deal was announced, France and Germany signalled their willingness to take in some refugees from the Alan Kurdi. Meanwhile, UN officials asked for the "62 migrants and refugees" to be disembarked at a safe port "as quickly as possible."
Migrant burden-sharing matters remain controversial, but EU governments have agreed to step up support for the Libyan coast guard, which intercepts migrant boats and brings those on board back to Libya.
But the North African country is rife with corruption and violence, and a civil conflict there worsened after strongman general Khalifa Haftar ordered his forces to seize Tripoli from a rival UN-backed government. Ensuing clashes have displaced thousands, threatening to create a humanitarian crisis and a surge of migrants to Europe.
Italy's hardline Interior Minister Matteo Salvini credits those policies with a sharp drop in migrant crossings and a drop in deaths on the dangerous central Mediterranean route from Libya - although there are now more deaths per attempted crossing.
Officials from the UN and the Council of Europe have pleaded with the EU to allow migrant rescue ships to carry out their missions. They have also asked the bloc to reconsider its support for the Libyan coast guard, due to the grave abuses, including arbitrary detention and torture, that migrants face when returned to Libya.