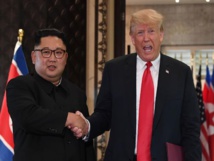 Former military intelligence chief
Kim Yong Chol
, who hand-delivered a letter from
Kim Jong Un
to Trump, was sent to a labour camp near the Chinese border on similar charges, the report said.
"
Kim Jong Un
is believed to have ordered the purge," the newspaper reported, saying that the moves were intended "to contain internal unrest and mounting public dissatisfaction" after the North Korean leader failed to secure relief from economic sanctions during his second tete-a-tete with Trump in
Vietnam
.
Government and intelligence officials in
South Korea
said Friday that they could not confirm the report. A representative of President
Moon Jae-in
cautioned local journalists not to jump to "rash judgments," according to media reports.
South Korean media reports of purges and executions inside
North Korea
, one of the most closed-off societies in the world, have a checkered record of accuracy.
Chosun Ilbo
, a conservative-leaning newspaper critical of engagement with the North, reported in 2013 that an ex-girlfriend of
Kim Jong Un's
had been executed by firing squad. The woman, singer
Hyon Song Wol
, visited
South Korea
last year as part of a delegation attending the Winter Olympics.
South Korea's
main news agency, Yonhap, also reported the execution of a top general in early 2016, relying on South Korean government officials. A few months later, North Korean media reported
Ri Yong Gil
was not only alive and well but had been named to a number of key posts.
Friday's report came from
Kim Myong
-song, a North Korean defector-turned-journalist who reports on
South Korea's
unification ministry.
The report also said another official who had also participated in working-level negotiations in the lead-up to the
Hanoi
summit alongside
Kim Hyok Chol
and the interpreter who translated for
Kim Jong Un
had been sent to political prison camps.
Kang Chol Hwan
, a North Korean defector who previously worked as a reporter for
Chosun Ilbo
, said that although it would make sense the officials would have fallen out of favour, information from
North Korea
often gets misinterpreted along the way.
"I'm sure (
Kim Jong Un
) needs to explain to party officials and close aides why things didn't work out," he said. "It takes time for the full story to come out."
An execution would be far from extraordinary - a report published earlier this year by Kang's organization, the North Korea Strategy Center, logged 421 purges and executions of officials since
Kim Jong Un
took power in 2011.
Without giving any specifics, North Korean state media published commentary Thursday that "those who pretend to support the great leader and harbour other dreams behind their backs are engaging in anti-party, anti-revolutionary acts."
"Such individuals will not be able to avoid the grave judgement of revolution," the commentary said.
Kim Hyok Chol
, the negotiator, was a former ambassador to
Spain
who only emerged as
North Korea's
envoy in nuclear talks with the
US
earlier this year.
Jean Lee
, a former Associated Press bureau chief in
Pyongyang
who now heads the
Washington
-based
Wilson Center's
Korea Program, recounted in a blog post earlier this year that she showed him and other
North Korea
delegates around
New York
including stops at the
New York Stock Exchange
and a Target store.
Kim Hyok Chol
, Lee wrote, is "conversant in English, congenial in nature" but at the end of the day "a bureaucrat tasked with carrying out the orders handed down to him by a leader who has a well-laid plan for how
North Korea
will deal with
the United States
."
Yang Moo
-jin, a professor at the
Seoul
-based University of North Korean Studies, said he was paying little heed to the reported purge.
"When a report about
North Korea
is wrong, there isn't someone to say it's wrong," he said. "It's not like the
Press Arbitration Commission
will get involved, or
North Korea
will complain."
Notepad