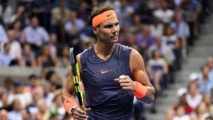 "Matches like today, being honest, help even if I don't play my best for moments," Nadal said. "In terms of confidence, in terms of battling every point, this has been an important match for me."
On Saturday, Nadal is due to face Fabio Fognini after he beat Borna Coric 1-6, 6-3, 6-2, but there will be no final with Novak Djokovic after the Serb earlier lost to Daniil Medvedev 3-6, 6-4, 2-6.
Having had relatively easy runs to the final at this tournament in recent years, Nadal unusually was forced to battle hard, and had to overcome a tiebreak in the opening set before claiming the win.
Nadal has made many comebacks in his long and storied career, but the effort against Pella was perhaps among the most inspired, rallying when his opponent once held a three-game advantage at 4-1.
It seemed insurmountable, but rally he did, and by reaching a high backhand volley and then a drop shot on the way, made it 4-3, and continued an impressive run to level proceedings at 4 games apiece.
Nadal held serve to lead for the first time in the match, only for Pella to later break on his third break point and pull away 6-5, even as his feet and shoes gave him grief and swapped them out.
It was unclear if the pain got worse, but changing shoes could not stop Nadal from breaking back to level at 6-6. In the ensuing tiebreak, Nadal was unstoppable, and allowed Pella just one point.
For both men, the ordeal was physical, draining work. Nadal looked tested for the first time this year in Monaco, and Pella needed a medical timeout and a dose of painkillers to continue the slugging.
And back into the breach they went, only by now, Pella was visibly tiring. Nadal immediately broke before extending his lead to 3-1 with a 12-minute game that returned to deuce on three occasions.
Pella, incredibly, was down but not quite out, breaking Nadal to go 5-3, before the exhaustion, finally too much, meant he double-faulted in his last service game and handed the match to Nadal.
The outpouring of sweat and emotion even from Nadal was immense, and he raised his arms aloft to the crowd and to Prince Albert of Monaco, a celebration he was yet to perform at this year's event.
Earlier on Court Rainier III, the other marathon match of the day ended in disappointment for the favourite, as top ranked Djokovic fell short of expectations with a stinging loss to Medvedev.
Djokovic won the Australian Open in January, but with early exits at Indian Wells and the Miami Open, had hoped to regain his footing. His plan was shredded over the course of the 2 hour-20 minute loss.
It was far from peak Djokovic as he flubbed forehands and struggled with nearly all of his drop shots, and he was punished for his inaccuracy by a spirited opponent in Medvedev.
Medvedev broke Djokovic in the very first game of the match, and took the opening set by breaking again leading 5-3 with a magnificent drop shot to which the Serb could find no reply.
Djokovic then gained a foothold by breaking Medvedev at 2-1 in the second set, yet it was striking how he failed to convert few, if any, of his aggressive moves at the net into decisive winners.
Medvedev by contrast had few issues, and in the third set he twice broke Djokovic with ease to go 3-1, then 5-1. He was broken back for 5-2, but made no mistake serving the match a second time.
Elsewhere in the last eight Dusan Lajovic beat Lorenzo Sonego 6-4, 7-5 to set up a Saturday semi-final against the 10th seed Medvedev.